Education Services for Blind and Visually Impaired Children
"The opportunities you have given me have truly opened up my world"
—P., Poland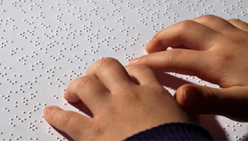 Welcome to Education Services for Blind and Visually Impaired Children, a statewide service of Catholic Charities Maine providing assessment, instruction, and consultation to blind and visually impaired children, their parents, and school personnel.
Among the services we offer are:
Low vision training
Braille Instruction
Instruction in use of adaptive equipment
Selection and/or modification of specialized curriculum
Activities of daily living
Strategies to facilitate concept development
Consultation to schools and families about the implications of visual impairment
Working in partnership with Maine's Division for the Blind and Visually Impaired (DBVI) local schools, and CDS sites, our certified teachers work with children from birth through 21 years old, helping them reach their fullest potential as independent, successful members of our community.
Please complete and return ALL of the following documents to ensure your application process moves as quickly as possible:
A recent medical eye report from either an optometrist or ophthalmologist
Please note: We must receive the medical eye information prior to any student visit. If you do not have this report, please call your eye doctor for a copy of the most recent report.
Please review our Privacy Practices page
Applications may be faxed to: (207) 282-1694 or mailed to:
Nancy Moulton ESBVIC Program Director P.O. Box 645 Biddeford, ME 04005
View a webinar!