Catholic Charities Food Bank
If you are hungry and searching for food in Aroostook County, you will find a list of our 25 food pantries here.
If you are lucky enough not to know the physical and emotional pain of hunger, keep reading to find out more about what we do, who we serve, and how you can help.
With rising food prices, the struggle to feed our neighbors in need gets more difficult — please give what you can today.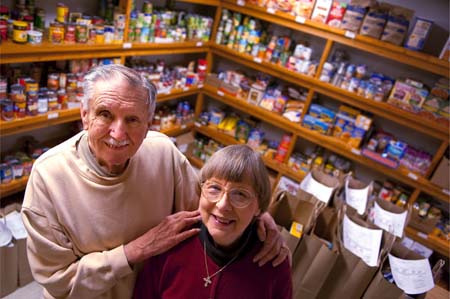 Clothing donations urgently needed! And we are also seeking donations of used furniture, appliances, household items and building materials. Arrange a pick up or call our Caribou office at (207) 493-8910 or call our Presque Isle office at (207) 493-8919.
Or drop your donation off in person at:
CARIBOU
14 Old Van Buren Road
Tues - Sat: 9AM - 4PM

PRESQUE ISLE
11 Davis Street
Mon- Thurs, Sat: 9AM – 4PM
Fri: 9AM - 8PM

MONTICELLO
155 U.S. Route One
Mon - Wed: 8AM – 4PM







We'd love to see you and thank you in person!
Volunteer
We desperately need volunteers to assist us in sorting food, unloading trucks & processing donated household items. Find out where you can pitch in here.
You get a good deal and someone gets a good meal!
"It happens when you least expect it and before you know it you've gone days without refilling prescriptions so you can afford a little bit of milk and bread. The senior food packs they give me means so much more than just a meal…it means hope."
—Barbara