Education, Training & Resources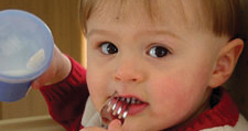 Looking for some fresh, healthy recipes to serve, or tips for encouraging physical activity? Please feel free to download the following materials, created to help you keep your charges happy and healthy.
CACFP FORMS
2016-2017 Dear Parent for Tier II Homes
2016-2017 Dear Provider for Tier I Providers
Building for the Future
CACFP Milk Requirements
Change Form
Food Chart Color
Infant Menu for Posting
Infant Menu for Submission
Minute Menu Helper Form
Dietary Restriction Substitution Statement
WIC Flyer
NUTRITION EDUCATION
25 Healthy Snacks for Kids
Breakfast Ideas
Color Your Plate with Salad
Cooking Meat
How Much Do You Eat?
Lunch & Dinner Ideas
Snack Ideas
Tips for Feeding Young Children
OTHER RESOURCES
Maine Roads to Quality/CACFP
Be sure to check out our newsletter, Caregiver Connection, for more ideas and ways to access all the benefits of our program!
As always, if we can be of any help, don't hesitate to contact us (scarvalho@ccmaine.org or rlessard@ccmaine.org ). And thanks for partnering with us to serve healthy meals for all Maine children.