FAQs
Here are a few Frequently Asked questions and resources you can go to for answers.
If you still have questions, we're here to help. Send us an email at [email protected] or call (207) 523-2700.
What if I don't know what language they speak?
Find your client's language, organized by countries of the world.
What are our legal obligations to provide an interpreter?
In short, if you are receiving federal funding of any sort, you have an obligation to provide reasonable accommodation for interpreter services.
The Department of Justice provides planning tools, sample language access plans, and examples of how legal mandates have been implemented in various branches of government.
MaineCare provides full reimbursement for interpreter services. The MaineCare Manual explains reimbursement policies and provides billing codes. Click on Ch. I - Section 1 - General Administrative Policies and Procedures and then scroll down to section 1.06-3 Interpreter Services. The Code of Ethics is in the Appendix at the end of the document.
I'm worried I will offend them. How do I understand their culture?
There are a variety of cultural profiles available to help you understand your client's background and culture.
I want a Certified interpreter. How do I know if an interpreter is licensed? What are the professional standards?
Currently there is no national, general licensure for interpreters. This is why Catholic Charities Language Partners places such a high level of importance on our internal screening and quality control measures. Nationwide, there are many organizations working to advance the profession of interpreting and translation. Many of them offer list serves and national conferences with information invaluable to administrators.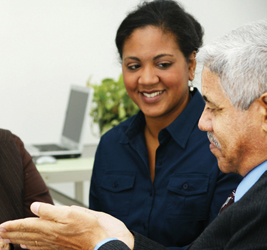 In Maine
Language Access for New Americans (LANA) – A United Way funded initiative, offered training to providers & interpreters, as well as technical assistance. LANA helped establish minimum standards for interpreters that have become the industry standard in Maine. The LANA Basic Interpreter Training model is now being implemented by Southern Maine Community College.
State of Maine Court Interpreter Program - The State of Maine offers free interpreters for civil and criminal matters. They have created a court interpreter program with minimum standards for court interpreter proficiency.
Nationwide
International Medical Interpreters Association (IMIA) - The country's largest medical interpreter professional association. They have advocated successfully for a national medical interpreter certification. Their website has many resources, and their annual conference in Boston, MA has many sessions useful to health care administrators.
National Board of Certification for Medical Interpreters - The nation's largest Introducing the first ever medical interpreter certification for spoken-language interpreters! Currently available only in Spanish, it soon will be expanded to 12 other languages.
National Council on Interpreting in Health Care - They offer a list serve that enables you to consult with other professionals in the field about best practices, legal liabilities, and resources
National Consortium of State Courts - Working to establish consistent court interpreter certification nationwide.