We would like to welcome you to Jessie Albert Dental
& Orthodontic Center,
the midcoast region's favorite choice for excellent, comprehensive dental services and quality orthodontic care for the whole family. Ask any of our patients or providers and they will tell you, we make a visit to the dentist's office something to smile about!
From routine cleanings and check-ups to the latest orthodontic procedures like Invisalign©, you can be sure you're in good hands with our knowledgeable team of doctors, hygienists, and assistants.
Founded by a local mother in need of affordable dental care for her children (read more about our history here), we believe state-of-the-art dental and orthodontic care should be available to everyone. In addition to accepting most insurance coverage, including MaineCare, we offer a variety of affordable financing options—because a beautiful and healthy smile is something we all deserve.
See You Around The Neighborhood
Being a good neighbor is important to us. In partnership with the Oasis Health Care Clinic, we are proud to make our office available for evening dental care for uninsured adults. We are also active in schools and Head Start Centers.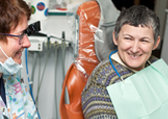 Word of Mouth
Here are some of the nice things our patients have said about us.
Calendar
There are no upcoming events at this time. Please check again soon!