Our Services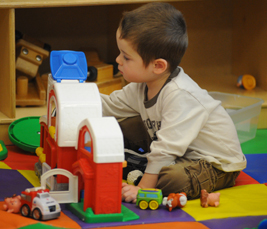 We provide child care for toddlers and pre-school children (18 months to 5 years).
Open Monday through Friday, 7:00 a.m. to 5:30 p.m.
Daily enrichment activities that are fun and encourage your child to explore and learn new things.
Helpful parent support and referrals to outside community supports-upon request.
Two beautiful, age appropriate, playgrounds.
Our center is a secure facility. Parents are given pass codes to enter the building. Your children's safety is our #1 priority!
All teaching staff are CPR and First-Aid certified.
COA accredited.
Program Goals
To create a safe and nurturing environment where parents feel confident that their children are well cared for.
To have a full range of appropriate and inviting activities available each day that will encourage a child's growth.
To provide those supports and services most needed by the families of children we serve.
To maintain a trained, knowledgeable and caring staff.
Our Rates
Private Fees and Vouchers
As a community child care, St. Elizabeth's is committed to providing fun/safe/high quality/early care and education to all children. We accept private fee paying parents. We also accept DHHS, ASPIRE and Transitional Vouchers, Child Development Services (CDS) clients and any public and private subsidy a parent receives for child care services.
Please call us for our current rates for toddler and preschool age care. Rates are based on the number of hours of care each child requires.
**Important Tax Information For Parents
The Maine legislature passed a law that expands the income tax credit for child care expenses. A Maine taxpayer (parent) who enrolls a child in a child care center or home with a Level 4 Quality Certificate is eligible for a double child care tax credit on their state income tax return. Currently an individual is allowed a credit against the tax otherwise due in the amount of 25% of the federal tax credit allowable for child and dependent care. In the law, this credit doubles in amount if the child care expenses were incurred through the use of quality child care. The credit may result in a refund of up to $500.
Please contact us if you need the Quality Certificate number!
Meals
Food and meal routines are important to young children. We participate in the USDA Child and Adult Care Food Program and offer breakfast, lunch and afternoon snacks at no cost to the parent. Our menus are designed and prepared by our experienced cook.
Full Non-Discrimination Statement
For all other FNS nutritional assistance programs, State or local agencies, and their sub recipients, must post the following nondiscrimination statement:
The U.S. Department of Agriculture prohibits discrimination against its customers, employees, and applicants for employment on the bases of race, color, national origin, age, disability, sex, gender identity, religion, reprisal, and where applicable, political beliefs, marital status, familial or parental status, sexual orientation, or all or part of an individual's income is derived from any public assistance program, or protected genetic information in employment or in any program or activity conducted or funded by the Department. (Not all prohibited bases will apply to all programs and/or employment activities.
If you wish to file a Civil Rights program complaint of discrimination, complete the USDA Program Discrimination Complaint Form, found online at: http://www.ascr.usda.gov/complaint_filing_cust.html, or at any USDA office, or call (866) 632-9992 to request the form. You may also write a letter containing all of the information requested in the form. Send your completed complaint form or letter to us by mail at U.S. Department of Agriculture, Director, Office of Adjudication, 1400 Independence Avenue, S.W., Washington, D.C. 20250-9410, by fax (202) 690-7442 or email at program, intake@usda.gov.
Individuals who are deaf, hard of hearing or have speech disabilities may contact USDA through the Federal Relay Service at (800) 877-8339; or (800) 845-6136 (Spanish).
USDA is an equal opportunity provider and employer.