Services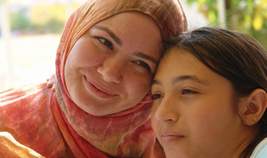 Recognizing that refugee resettlement is a partnership among equals — the refugee, the resettlement agency, and the community — Catholic Charities Maine Refugee and Immigration Services seeks to encourage and support refugees through the process of becoming responsible, self-reliant members of our community.
Our Services Include:
Case Management
Airport reception
Assurance of basic needs – housing, food and clothing
Community, cultural, and employment orientation
Referral for education and vocational training
Referral for English as a second language tutoring
Employment development and placement
Assistance with family reunification
Medical and mental health referrals
Liaison with other service providers
Survivors of Torture Case Management
We provide limited case management services to asylees who have been granted their asylum and can serve them for up to 60 months from their date of granted asylum. Learn More
Corporate Training
An exciting and dynamic workshop that helps businesses and staff understand the path of a refugee, and invites them to walk a moment in their shoes. Learn More
Elder Services
We serve elder refugees and asylees (aged 60+) with:
Citizenship
Tutoring
Senior Companion Program
Interpreting Services
Legal Services
Employment Services
We offer support for all aspects of employment searches, including help with:
Creating a resume
Completing job applications
Job interviewing skills
Understanding the work culture in the USA
Connecting you with other employment resources in the community
Interpretation and Translation Services
Catholic Charities' Language Partners can take the guesswork out of translation and interpreter services.
Our linguists have experience working with many of Maine's leading names in the medical, legal, social services, and corporate fields. Whatever your needs, from on-site interpreter visits to translation jobs of dozens of documents in multiple languages, we will develop a custom-tailored language services package that best suits your needs. Learn More
Mentoring Programs
American Friends Program
The American Friends program matches English-speaking families or individuals with recently arrived refugee families to provide them with support to educate, orient, and integrate New Mainers into the community. We match refugees with community volunteers with similar interests and schedules. Refugee families need a friend who will give them encouragement, will take the time to explain the language and way of life, will understand and listen. Learn More

RIS Mentoring Program
The RIS Mentoring program matches refugee and asylee young adults (ages 18-30) with volunteer mentors to support their efforts to reach their personal, academic, and career goals. Adult volunteers commit to supporting, guiding, and being a friend to a young adult refugee or asylee for two hours a week for six months to one year. Learn More
Affidavit of Relationship (AOR)
To learn more, please download our brochure:
Central American Minors (CAM) Program
To learn more, please download our brochure:
CAM Program Brochure (Spanish)
I-730s
Green card applications