Stories Among Us
Behzad Habibzai
Growing Maine Roots
How one family left Kabul, Afghanistan to find a new life in Portland, Maine
When do refugees decide that the only homes they've ever known may never be safe again? For Behzad Habibzai's father, it was a day in 1983 when he saw his best friend disappear from a high-ranking government position in Kabul, Afghanistan. The Habibzai family soon packed up their home in Kabul and fled to Germany.
"My family had to escape when the Soviets invaded Kabul. The flight detoured to Moscow, and my father, "Bugs Bunny-style," covered his face with a newspaper to avoid being detected by the Soviets who came on the plane. It sounds like something out of Hollywood, but it worked," Behzad says. "My family was in Germany for three years, and I was born there. Catholic Charities and St. Bartholomew's worked together to get us to the Portland area, and we finally made it here when I was three months old. I heard there was applause in the Portland jetport when we landed – that was just a sign of how welcoming people were. My family of seven lived with a generous couple in Cape Elizabeth while we waited for housing. They became like grandparents to me."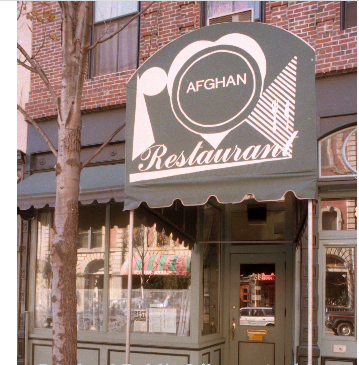 Behzad's parents opened the popular Afghan Restaurant in the Old Port, which meant they got to know greater Portland extremely well and vice-versa. His parents were like local celebrities. Eventually his family, like many, spread out throughout the states and the world, with some moving as far away as Dubai and Europe to pursue their careers. He has a sister in Maine, as well as an uncle, cousins, and a late aunt, but much of his family moved to the Washington DC-area, where Behzad lived and worked for 17 years and where he met his wife.
"We decided to move back to Maine in 2018, after our daughter was born, because I am able to work remotely, and my wife left her position as a singer in the Army. We had been spending every vacation we could in Maine, including Christmas every year. I proposed to my wife in Portland, and we got married in Cape Elizabeth. It made total sense to move back and raise our daughter here."
Behzad's love of Maine can be traced to his early days of being welcomed to the state, and in turn welcoming the Portland area to his family's restaurant, which helped them get to know the ins and outs of the community.
For many, finding the food, culture, and religion of their countries of origins can be confusing. This is where social service agencies like Catholic Charites can play a crucial role in bridging those cultural shifts. His advice to new refugees and people who help resettle refugees is that you need to find the resources that will help newcomers carry on their traditions while navigating some semblance of their new ways of life.
"There's a need for balance in remembering the old ways and embracing opportunities to integrate with Mainers and enjoy this beautiful state. My daughter can start each day on a beach or looking at a lighthouse, and I think it's important for newcomers to see that Maine may not be what they are used to, but it's a great place to live," says Habibzai.