Employ a Refugee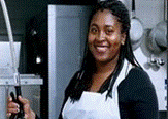 According to a recent survey, 92% of employers reported that they were either "satisfied" or "very satisfied " with the employee that they hired through the RIS employment program.
Some job skills and characteristics evaluated by employers included: punctuality, reliability, ability to communicate effectively, attitude towards work and staff, ability to take initiative, response to instruction, ability to stay on task, and overall job performance.
100% of respondents expressed that they are either "very likely" or "certain that they will use the employment services at Catholic Charities in the future, based on their positive experiences with refugee employees and with Catholic Charities staff."
Get all the benefits of hiring through RIS
Skilled, Experienced, Long-term Workers - Refugees and asylees have a variety of work experience and skills. Many are highly educated and were professionals and small business owners in their home countries. Most refugees arrive with many years of work experience, which gives American employers access to well-trained workers who are committed to long-term employment.
Multilingual and Culturally Competent Employees - Many refugees and asylees are fluent in two or more languages and have experience living and working with individuals from all over the world. Their language skills and multicultural experience can be a major asset to your company.
Strong Work Ethic - Refugees and asylees have lost their homes, personal property and careers in their home countries. They are highly motivated to regain self-sufficiency and economic stability for their families.
Availability of Employees - With refugee and asylee job candidates arriving in Maine each week, Catholic Charities can assist you to fill your job openings quickly. Businesses can avoid advertising costs and take advantage of free referral services.
Tax Incentives - Your business could qualify for certain tax credits and training incentives when you employ individuals receiving public assistance.
Promoting Community - Hiring refugees and asylees helps them get on the road to self-sufficiency, strengthening families and community.
Refugees are Work-Authorized - Refugees and asylees are fully authorized to work in the United States.
Hiring Support!
Let us help you fill job openings by recruiting and pre-screening refugee and asylee candidates for positions. All of our candidates are carefully chosen to match their skills and experience with your needs.
If you are interested in working with Catholic Charities to fill openings at your company, or have questions about our clients or services, please contact:
RIS Employment Case Manager
(207) 871-7437
Resources
To learn more about the benefits of hiring refugees and asylees, please explore the following resources for employers: