Bob Evans Farms, Inc. Extends Investment in Maine Communities with Donation to Catholic Charities Food Bank
May 30, 2017
Caribou, ME – Catholic Charities Maine's Food Bank in Aroostook County received a $10,000 donation from Pineland Farms and Bob Evans Food, Inc. on Thursday, May 25th to help combat hunger insecurity in Maine's northern most county.
Bob Evans Food, Inc. recently purchased Pineland Farms and its investment in Maine's economy is also extending to the local community. "We are excited to be part of the Pineland Farms family and are especially pleased to help a local project such as Catholic Charities' Food Bank, which is addressing a critical need in the community— ending hunger insecurity" said Elizabeth Sedlock on behalf of Bob Evans Foods, Inc.
Dixie Shaw, Catholic Charities' Director of Hunger & Relief Services remarked, "It takes money to give away free food and this donation couldn't have come at a better time. I'm so thankful Pineland Farms thought of our efforts and had the support of Bob Evans as this will make a tremendous difference to the people we serve!"
Catholic Charities relies on the generosity of individuals and businesses, as well as proceeds from sales at its three northern Threads of Hope thrift stores to operate the Food Bank, which serves 24 food pantries across Aroostook County, from St. Francis to Wytopitlock. In 2016, Hunger & Relief Services was able to provide food assistance to 23,995 individuals through the Food Bank and the innovative Farm for ME program.
Rodney McCrum, president of Pineland Farms, added "I know Catholic Charities has a long history of service helping the people of Maine and am confident Dixie can put this donation from Bob Evans Farms and Pineland to good use helping folks in need in the County."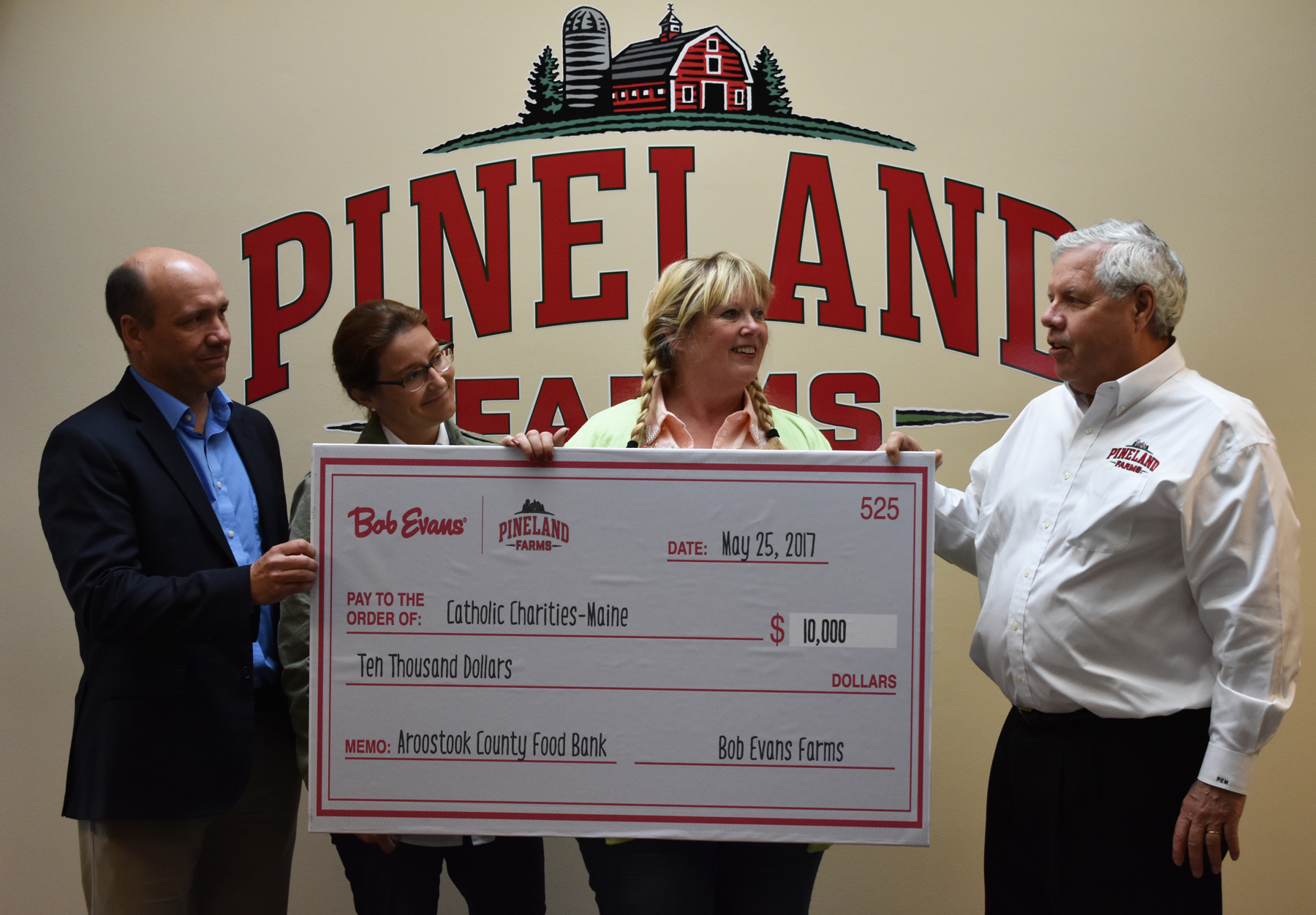 PHOTO CAPTION: (pictured Left to Right)
Stephen P. Letourneau, CEO of Catholic Charities Maine; Elizabeth Sedlock, Bob Evans Foods, Inc.; Dixie Shaw, Director of Hunger & Relief Services at Catholic Charities Maine and Rodney McCrum, president of Pineland Farms.
# # #