Parish Social Ministry

In partnership with Catholic parishes, Parish Social Ministry (PSM) is a resource specialist in the development and delivery of services that strengthens the capacity of parish communities to serve vulnerable people of all faiths. We provide leadership, guidance and training to those called to serve and those who are served. We do this with mutual respect and caring, Christ-centered compassion, insight and adaptability to meet the varied and changing needs of those we serve.
"Parishes are the home of the Christian community; they are the heart of our Church. Parishes are the place were God's people meet Jesus in word and sacrament and come in touch with the source of the Church's life… But until now, we have not specifically addressed the crucial role of parishes in the Church's social ministry… we are convinced that the local parish is the most important ecclesial setting for sharing and acting on our Catholic social heritage."
—Introduction to USCCB Communities of Salt and Light: Reflections on the Social Mission of the Parish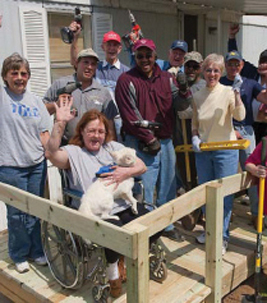 PSM works with parishes to empower parishioners to live out their baptismal call to serve the needs of those living right in their own communities. The program assists in establishing or enhancing current parish ministries and programs to address unmet community needs, gather and train volunteers, and help obtain any additional funding needed to implement these services.
Our Services:
The Matthew 25 Award is a $5,000 award and three $2,000 grants presented annually to Catholic parishes that closely adheres to the principles of the Bible verse Matthew: 25 - "I was hungry and you gave me food. I was thirsty and you gave me drink..."
We give Relief & Hope through our emergency services support which provides limited financial and in-kind relief for seriously vulnerable persons with a proven need; suggesting hopeful possibilities when other resources are not enough.
The CCHD Parish Grant financially assists Catholic parishes in developing and sustaining ministries that educate and empower people in need in their communities.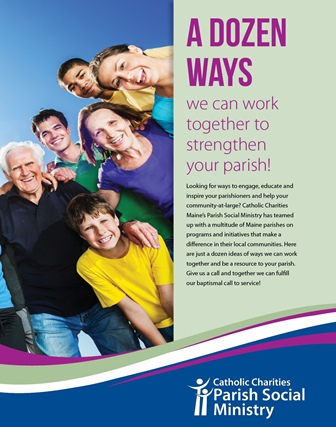 Check out our brochure on A Dozen Ways you can work with Parish Social Ministry to strengthen your parish!
"I was hungry and you gave me food. I was thirsty and you gave me drink. I was a stranger and you made me welcome; lacking clothes and you clothed me. I was sick and you visited me; in prison and you came to see me … In truth I tell you, in so far as you did this to one of the least of these brothers or sisters of mine, you did it to me." (Matt. 25:35-36, 40)