SEARCH: Seek Elderly Alone, Renew Courage & Hope
For seniors, especially those on a limited income, being able to live at home can be both a blessing and a curse.
SEARCH connects isolated seniors with community volunteers in Androscoggin, Kennebec, and Sagadahoc Counties, and in parts of Franklin and Lincoln Counties, along with Brunswick & Harpswell in Cumberland County. Our volunteers bring skills, enthusiasm, and companionship to their lives, while assisting with a variety of support services: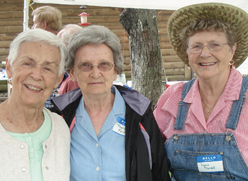 Friendly visitation and companionship
Telephone reassurance
Helping them with appointments/errands and grocery shopping
Assistance with some in home tasks/projects
Doing socialization activities together
Help with correspondence/forms
Help with yard work
Referral to other services & programs when needed

Are you or someone you know living alone and in need of a helping hand or an understanding ear?