SEARCH: Seek Elderly Alone, Renew Courage & Hope
For seniors, especially those on a limited income, being able to live at home can be both a blessing and a curse.
SEARCH connects isolated seniors with community volunteers in Androscoggin, Kennebec, and Sagadahoc Counties, and in Brunswick & Harpswell. We began new outreach into parts of Lincoln County in the fall of 2015 and we have expanded our outreach again into parts of Franklin County in January 2017, as funding allows. Our volunteers bring skills, enthusiasm, and companionship to their lives, while assisting with a variety of daily tasks: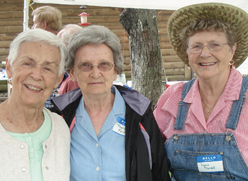 Friendly visitation and companionship
Transportation for grocery shopping, errands, and to appointments
Help with in home tasks/projects
Doing socialization activities together
Helping them with errands/grocery shopping
Help with correspondence/forms
Help with yard work
Telephone reassurance
"Meals together" socialization luncheon program
Referral to other services & programs
Are you or someone you know living alone and in need of a helping hand or an understanding ear?