Matthew 25 Award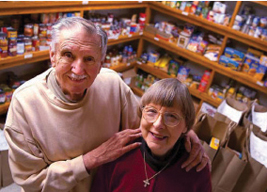 The Matthew 25 Award offers one-time financial assistance to every cluster in the Diocese to meet the immediate needs of their community.
To apply for Matthew 25 Award funding, please contact Susan McGaulley, PSM Program Manager, at 523-1161 or psm@ccmaine.org.
The guidelines and application form may be downloaded here.
Some parishes that have benefited from the Matthew 25 Award include:
Our Lady of Hope and Portland Peninsula & Island Parishes received funding to assist Portland residents with fuel, food and winter clothing
St. Leo the Great and St. Mary of Lourdes are general client assistance requests
St. John Vianney received funding to assist area residents with heating fuel
Focusing charity at the local level, where it is most effective and meaningful
"Matthew 25 is about getting back to the way our Church always was…neighbors helping neighbors and the Church helping those people who are really in need."
—Steve Letourneau, CEO Catholic Charities Maine