What We Do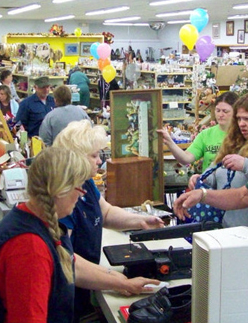 We rely on the proceeds from sales at our Threads of Hope thrift stores to operate our food bank, which serves 24 food pantries across Aroostook County, from St. Francis to Wytopitlock.
The need is greater than ever!
It takes at least a tractor-trailer load of food each month to supply the most basic needs of our pantries.
Thanks to the generosity of individuals and businesses throughout Maine, we are able to assist some of our neediest neighbors in Aroostook County. Our store stockpiles building materials, furniture, appliances, clothes and other household items that have been donated. Every purchase made in our store helps us help feed people right here in Aroostook County. Our motto is: "You get a good deal and someone gets a good meal."
It costs a lot of money to give away free food! Our food bank would not be possible without the help of thousands of generous individuals, home owners, businesses, contractors, and other organizations— thanks to all who have donated!
Make a financial gift or donate today.

Home Supplies & Food Bank would like to thank Walmart for their support of our expansion of the Food Bank in southern Aroostook County. Read more...