About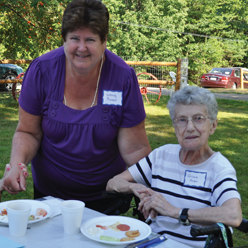 Since 1975, SEARCH has provided volunteer services to seniors in Androscoggin County. The program expanded to Sagadahoc County and Brunswick areas in 2004, operating as GBEON (Greater Bath Elder Outreach Network). We expanded again into Kennebec County in 2013. In the Fall of 2015, we began new outreach into certain areas of Lincoln County, and in January 2017, we have expanded again into parts of Franklin County, as funding allows.
SEARCH helps seniors feel less isolated and more connected to a caring community, while also remaining independent in their own homes. We provide free support services via trained volunteers including friendly visits and companionship, socialization opportunities, transportation for grocery shopping and errands, telephone reassurance calls, and information and referrals to other community services and programs.
The mission of SEARCH is to enable vulnerable seniors to remain independent and create a long-term support system to meet their needs. After receiving and assessing a referral, the Program staff matches the client with a volunteer. Matches are based on the individual's needs and the volunteer's availability to provide the service. Screened and trained volunteers, depending on their individual availability, contribute 3 to 4 hours of time and activity to the elderly from all faiths, every week, or bi-weekly based on the needs of the client. Community volunteers who are recruited, trained, and supervised by SEARCH staff provide all services, delivered at no cost and designed to enhance the quality of life for the seniors we serve. Our dedicated volunteers also come from all faiths, all age groups and all walks of life.
Funding and In-Kind Support
SEARCH is supported by the Roman Catholic Diocese of Portland, United Ways of Androscoggin County, Mid Coast and Mid Maine, Bath Housing Authority, St. Michael Pastoral Center, St. Rose of Lima Parish, and St. Patrick's Parish. The Davenport Trust Fund, Auburn-Lewiston Rotary Breakfast Club, Lewiston-Auburn Rotary Club and the Bath Rotary, Helen & George Ladd Charitable Foundation, Bessie D. Brooks, Doree Taylor Charitable Foundation, John T. Gorman Foundation, and donations from individuals, businesses and civic groups.