Become a SEARCH/RSVP volunteer today!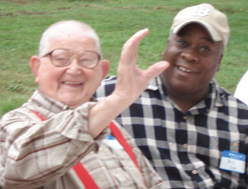 If you have 3-4 hours a week to give we would love to talk to you about becoming a volunteer with us and be matched with an elderly person from your community! We are also seeking volunteers interested in joining our Advisory Committees in each County we serve — lend your expertise and enthusiasm today.
Catholic Charities Maine SEARCH is a new grantee of the RSVP (Retired & Senior Volunteer Program) which is an AmeriCorps Seniors volunteer program that will be supporting the elderly population in Kennebec & Somerset Counties in our SEARCH Programs. People who are 55 and over can join our RSVP project and support seniors from their communities!

We are looking for Advisory Committee volunteers for Androscoggin, Kennebec and Sagadahoc Counties!
Volunteer Visitors needed in Androscoggin, Franklin, Kennebec, Sagadahoc & Somerset Counties, and in parts Lincoln, Oxford, Penobscot counties, and in Brunswick and Topsham.
Become a Volunteer and start making a difference in an elderly neighbor's life today.
Find out more here, or contact us.

Testimonials
"I'm very thankful for all of those [volunteers]. They're my adopted family." — Viviane, Lisbon
"The gift of companionship is measurable only by the size of one's heart." —Volunteer
"Being a volunteer is one of the best decisions I ever made. It's such a rewarding experience to work with people that really need you."
"I want you to know how much I appreciate you spending time with me; I don't know what I would do without you."
"I have been matched with two women who are now 91 & 92 years old…they are so very grateful to be able to stay in their own homes with their pets. It gives me great pleasure to have such a positive impact in their lives…. In one word describing my relationship with both these ladies — 'priceless!'"