Our Services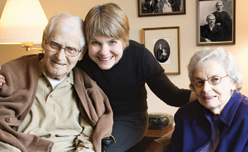 Do you have difficulty with the following household tasks because of physical limitations?
Light housekeeping Laundry
Meal planning/preparation
Grocery shopping /transportation/errands
Limited assistance with personal care
If you three or more apply to you, then you may qualify for Homemaker services.
Flexibility to meet your needs...
Option #1: Self-Direct Homemakers
Do you already know and trust someone you'd like to have as a homemaker? Then our Self-Direct Homemaker option may be the solution!
With our Self-Direct Homemaker option, you may hire the individual of your choice, someone you know and trust: a family member, friend, or neighbor. You even have the option to advertise, if you don't know someone locally.
You also have the convenience of scheduling your Homemaker for weekends or evenings, outside of our usual Agency Homemakers' hours.
With Self-Direct, Catholic Charities will reimburse you for all or a portion of homemaker services.
Option #2: Agency Homemakers
Let us match you with a caring, dedicated Homemaker to help you stay independent in your own home. Our Homemakers are fully-screened and professionally supervised to ensure your needs are met
Cost for Services
Co-payment is required for services; however, Independent Support Services may be available at no charge for people who meet eligibility guidelines.