Catholic Charities Maine Presents Matthew 25 Award to The Parish of the Resurrection of the Lord
June 23, 2013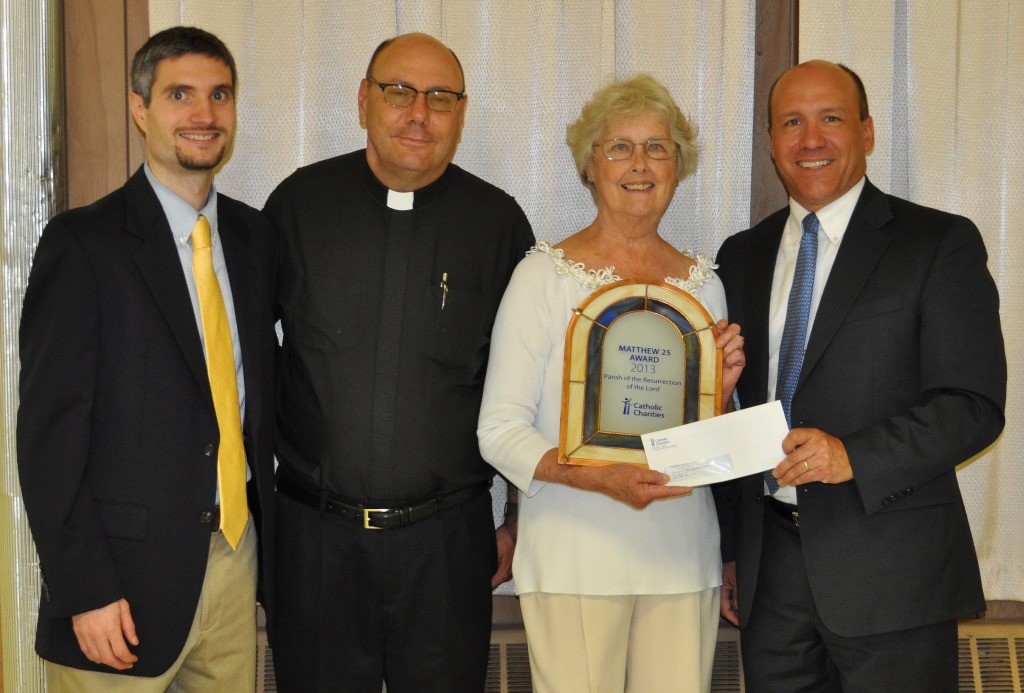 Old Town, ME – The Social Justice and Peace Commission of The Parish of the Resurrection of the Lord of Old Town, Orono and Indian Island is the recipient of Catholic Charities' Parish Social Ministry program Matthew 25 Award for 2013.
PHOTO: Pictured, L to R: Michael Smith, Program Manager of Catholic Charities Maine Parish Social Ministry; Fr. Bill Labbe of The Parish of the Resurrection of the Lord of Old Town, Orono and Indian Island; Mary Montville, Chair of the Social Justice and Peace Commission; and Stephen P. Letourneau, CEO of Catholic Charities Maine.
After reviewing numerous applications, The Parish of the Resurrection of the Lord was selected based on its community work via its Thrift Shop, Food Pantry, Community Suppers, Christmas Giving Program, Senior Companions and Emergency Assistance support.
"Their application rose to the top, not only because of the number of people served, but also because of the opportunity to engage a large number of parishioners, and fellow members of the community, to express their generosity locally whether by volunteering their time, donating food or Christmas gifts or making a monetary donation," says Mike Smith, Program Manager for Catholic Charities' Parish Social Ministry. It is estimated that there are at least 500 opportunities for parishioner participation in varying degrees, engaging a substantial portion of the congregation on an ongoing basis.
The custom-crafted stained glass award and check for $5,000 was presented at the 8:00 am Mass on Sunday, June 23rd at The Parish of the Resurrection by Catholic Charities CEO Stephen Letourneau and Mike Smith. A celebratory reception immediately followed.
The $5,000 award will be used to help fix the roof of their thrift shop. The proceeds from the thrift shop help the parish fund the many ministries they provide their communities. They also plan to use any remaining funds to help purchase a new dishwasher so that they can be better stewards of the environment and avoid using paper and plastic products at their community suppers and all parish meals.
"Admittedly, the dishwasher was our first wish, but then the roof issues came up and we knew we had to take care of that so we could continue to maintain everything else we do," says Mary Montville, Chair of the Social Justice and Peace Commission. "This Award is valuable, not only for helping to repair our roof, but, even more importantly, for acknowledging the immense commitment to assisting our neighbors which is an inherent part of the people of this parish," Montville added.
The Commission's efforts feed approximately 40 families per month; provide companionship to more than a dozen elderly in the community; feed more than 75 people a month at their community suppers, give nearly 200 gifts at Christmas to needy families and provide emergency support, including rent, gas/propane, food vouchers, furniture, baby supplies and cleaning supplies to more than 70 persons in need on an annual basis.
The Matthew 25 award is presented annually by Catholic Charities to a parish that closely adheres to the principles of the Bible verse Matthew: 25 - "I was hungry and you gave me food. I was thirsty and you gave me drink..." This is the third year the award has been given. Previous recipients include St. Anne's Church in Dexter (2011) and Christ the Divine Mercy Parish in Millinocket (2012).