Catholic Charities is Helping to Keep Mainers Safe by Distributing 73,000 KN-95 Masks
January 13, 2021
Portland, ME – Thanks to a donation from Catholic Charities USA, Catholic Charities Maine (CCM) has received 73,000 KN-95 general purpose masks to help keep Mainers safe during the COVID-19 pandemic.
"It was a whole-hearted 'yes!' when CCUSA asked if we could put these to good use," says Stephen Letourneau, CEO "Through our 20+ programs statewide and partnerships with many local organizations and contacts in the community we're working to get these out to as many folks as possible, as soon as possible who may not have access to masks otherwise," Letourneau notes.
Recognizing that the COVID-19 virus is on the rise in Maine and disproportionately affecting minorities, CCM has worked with refugee and immigrant community leaders to provide masks to the Congolese, Russian, Azerbaijan, Angolan and various other immigrant communities in addition to giving masks to Portland Adult Education and Gateway Community Services.
Masks are also reaching the broader, general population through distribution to food banks, pantries and to the homeless population.
As CCM helps more than 50,000 individuals and families annually, masks are reaching clients served through the Agency's Behavioral Health Network, St. Francis Recovery Center, senior in-home services, families at St. Louis and St. Elizabeth's Child Development Centers, teachers for blind and visually impaired children, patients at Jessie Albert Dental & Orthodontic Center, clients at Refugee & Immigration Services, clients and translators at Language Partners, customers at Threads of Hope Thrift Stores and to the Agency's volunteers.
In addition, a supply of masks is being held for use by CCM Staff so they may continue to serve Maine's vulnerable populations throughout the pandemic.
Pictured (L to R): Tae Chong, Manager of Social Enterprise & Workforce Development stands with Catholic Charities Maine CEO Stephen Letourneau with 73,000 KN-95 face masks the Agency is distributing across Maine thanks to a donation from Catholic Charities USA.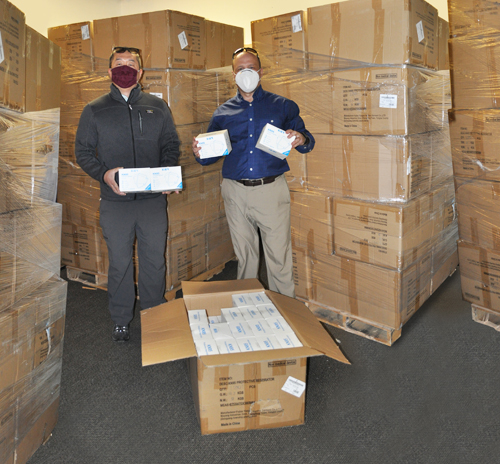 About Catholic Charities Maine
Since 1966, Catholic Charities Maine has provided quality, community-based, social services to people of all faiths, beliefs, and economic backgrounds. As one of the largest human service agencies in the state, we are committed to helping children and adults overcome adversity and achieve self-sufficiency. To learn more, please visit www.ccmaine.org or call 1-800-781-8550.
# # #