In the News: Catholic Charities Maine Receives $2,500 Donation from Mechanics Savings for Independent Support Services Program
December 27, 2013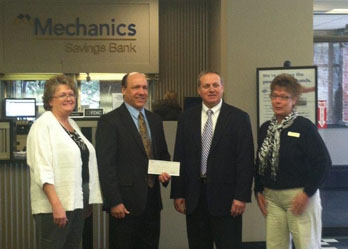 Portland, ME – Catholic Charities Maine is pleased to announce it is the recipient of a $2,500 donation made by Mechanics Savings Bank to the Agency's Independent Support Services program.
Bank representatives noted that they were so moved by the Agency's Fall Appeal on behalf of the program that the decision to make a donation was unanimous.
"We are so appreciative and feel truly blessed by such a generous donation," says Stephen P. Letourneau, CEO of Catholic Charities Maine. "The need for our Independent Support Services is so great that we have a waiting list for services. This gift will go a long way toward providing care to new clients and helping them to maintain their self-sufficiency at home," Letourneau adds.
pictured L to R: Linette Dehetre, Asst. VP Banking Center Manager; Stephen Letourneau, CEO of Catholic Charities Maine; Ray Teixeira, VP Commercial Loan Officer; Nancy Richard,Asst. VP Retail Banking Officer.
About Catholic Charities Maine
For more than 45 years, Catholic Charities Maine has provided high-quality, community-based, social services to people of all faiths, beliefs, and economic backgrounds. As one of the largest human service agencies in the state, we are committed to helping children and adults overcome adversity and achieve self-sufficiency through our 25+ programs.