Catholic Charities Maine's Threads of Hope Opens in Sanford's Center for Shopping
April 18, 2013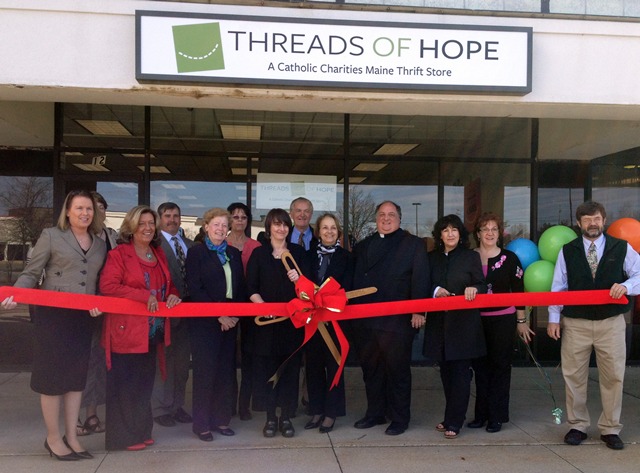 Sanford, ME — Today Catholic Charities Maine (CCM) opened its fourth thrift store € Threads of Hope € with an official ribbon cutting at the Center for Shopping in Sanford and a blessing of the store performed by Fr. Phil Tracy.
Threads of Hope features gently worn clothing, shoes, accessories, furniture and books. The store employs a staff of six and will be open Monday – Saturday from 10am – 7pm and Sunday from 10am - 5pm.
Designed to be a shopping experience everyone can feel good about, the prices are good for the pocketbook, the re-purposing of items is good for the planet and with all proceeds going directly to help Mainers in need through CCM's 30+ programs, donating to and shopping at Threads of Hope?is especially good for our neighbors in need.
"We've been delighted with the outpouring of community support," noted CCM Board Member Barbara Smith. "If folks shop with the same enthusiasm we've seen when it comes to collecting donations, this store will have a tremendous impact on our ability to serve people in need right here in Maine" she added.
The Sanford opening marks the fourth location for CCM, with additional stores in Portland, Presque Isle, Caribou and another scheduled to open in Monticello in May.
Threads of Hope relies solely on donations for its inventory and welcomes donations of gently worn clothing, shoes, accessories, furniture and books from individuals and businesses. Items may be brought to the store during regular business hours or to arrange for a pick-up of larger items, call (207) 956-1457.?For more information visit www.ThreadsOfHopeCCM.org
Front row pictured (L to R): Rachel Spina & Caren Martineau, Chamber representatives; Barbara Smith, CCM Board Member; Sibyl Pitcock, Threads of Hope Operations Director; Bonnie Bagley, CCM Associate Director; Fr. Phil Tracy; Stephanie Wilkins, Evelyn Libby and Rick Stanley from the Chamber.
Back row: Mayor Maura Herlihy; Jeff Tiner, CCM Chief Operating Officer; Mary Lou Bowie, Store Manager and Bill Woods, Threads of Hope Community Outreach.
We're in the news!