Catholic Charities Welcomes New AmeriCorps and Jesuit Volunteer Corps Members
November 12, 2012
Recent New England Graduates to Spend a Year Making a Difference in Maine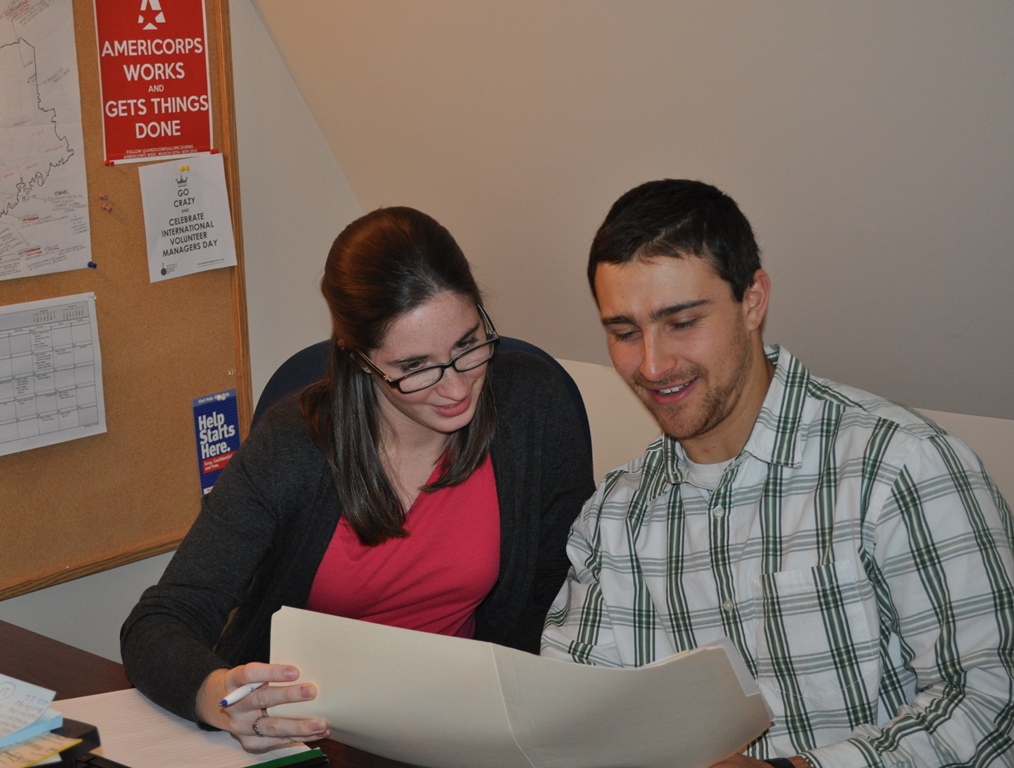 Portland, ME – Three recent college graduates have joined Catholic Charities Maine (CCM) as volunteers from AmeriCorps and Jesuit Volunteer Corps programs, bringing fresh ideas and energy to their respective positions. The 20-somethings will all spend one year working on various projects that will help CCM build its capacity to provide help and create hope for Mainers in need.
A graduate of Fordham University, Megan Welch hails from Connecticut and joins Catholic Charities as a year-long AmeriCorps*VISTA member. Her service marks the second year in a three year cycle funded in part by the Maine Commission for Community Service and the Corporation for National and Community Service. Megan will continue to enhance CCM's capacity to engage volunteers to support the efforts of agency programs. "I have had incredible experiences to learn, grow, and build relationships in my own history as a volunteer," says Welch. "This opportunity appealed to me because it enables me to promote volunteerism and help connect others with meaningful and potentially life-changing service opportunities. Service has become an integral part of my life, and as a VISTA I get to share that passion with others," she adds.
Ashley Storrow, a graduate of Skidmore College originally from Massachusetts, recently began serving at Refugee and Immigration Services (RIS), a program of Catholic Charities Maine. Ashley is a member of the AmeriCorps Multilingual Leadership Corps, a program of Goodwill Industries of Northern New England. Ashley is working to create a volunteer-based mentoring program aimed specifically at helping older refugee youth pursue their educational and career development goals. "I joined AmeriCorps to learn more about how to design effective community-based programs and to gain a deeper understanding of the refugee community here in Maine," she says.
Mike Fask is a member of the Jesuit Volunteer Corps and is currently serving Catholic at Charities Maine within Parish Social Ministry's Relief & Hope program. He supports the program's mission by responding to requests for help and providing resources to people in need across the state. A Massachusetts native, Fask is a graduate of the College of the Holy Cross and Columbia University, having completed a combined plan program, achieving degrees in both liberal arts and engineering. "I came across this opportunity to serve as a Jesuit volunteer and live by the four pillars that are the philosophy of Jesuit tradition: social justice, community, simple living, and spirituality. It seemed like an exciting and challenging opportunity that I couldn't pass up," Fask notes.
"We are delighted to have such accomplished individuals helping us carry out our mission," says CEO Stephen Letourneau. "While we have over 300 volunteers across more than 30 programs statewide, we are humbled to have Ashley, Megan, and Mike with us for an entire year, serving full-time on a limited living allowance, dedicating themselves to issues that might not otherwise get that attention."
Former AmeriCorps*VISTA volunteer Kerrie Keller notes that sometimes a passion for service may lead to a new career opportunity. Kerrie is now employed at CCM as Coordinator of Volunteer Services and Special Projects after fulfilling her one year VISTA commitment last year. "My year of service at CCM was a great leadership experience and a window into the nonprofit world. I am excited to continue strengthening the elements of our volunteer program and identifying new ways for people to get involved with our agency's efforts to create positive community change," she remarks.
While the new AmeriCorps members have been on the job just a few months, they are already seeing what a difference they can make in their new roles. "So far, I have created a plan for implementing an agency-wide volunteer orientation and administered a survey to program staff to assess specific needs," says Welch. She also coordinated three service days for groups of high school students from Waynflete and Cheverus and is looking forward to planning more large-scale service events.