Creative Marketplace for Emerging Entrepreneurs Launches in Portland
February 13, 2019
Portland, ME – Catholic Charities Maine's Social Enterprise and Workforce Development program launched "Fikiria"on Tuesday - a new creative marketplace for emerging entrepreneurs. Swahili for "imagine," Fikiria provides commercial space within Catholic Charities Threads of Hope Thrift Store in Portland (1041 Brighton Avenue) plus offers professional wrap-around support to help new entrepreneurs succeed in growing or launching new retail-based businesses.
"This program is designed to create a path to business start-up and ownership for those who may not have the resources to do so otherwise," said Stephen Letourneau, CEO of Catholic Charities Maine. "We want to encourage anyone, and particularly seniors, young entrepreneurs, refugees or immigrants to apply for space and join us in highlighting the true creative talents Maine has to offer."
Fikiria offers twelve potential spaces for rent, all below commercial rent prices, and provides tenants with a suite of additional support free of charge, including business counseling, marketing and customer service guidance plus retail display and point of sale (POS) systems. "We're truly trying to remove as many barriers as we can for folks looking to start a new retail business," added Tae Chong, Social Enterprise & Workforce Development Manager for Catholic Charities Maine, "we hope to be the launching pad for the next great Maine brand!"
Fikiria launched with two tenants already in place, including NanuSka Style, owned by Nana Batumike and Chiffon Alterations, owned by Anaam Jabbir. A mother of six, Batumike operates an African clothing, cosmetic and hair braiding business. Jabbar was a tailor in Iraq and is the head foreperson at American Roots, a large textile manufacturing company in Portland. Chiffon Alterations offers onsite alterations and will also subcontract with several local businesses making linen sheets, handbags and upcycled clothing.
The program is made possible through founding support from cPort Credit Union, Maine Technology Institute, Bill and Joan Alfond Foundation, Rocking Moon Foundation, Lee International and through the generosity of individual donors, including Wendy Penley, Susan Morris, Pam Plumb, Carol Wishcamper, Margo Milken, Ellen Grant and Kevin Carley. Fikiria has also received in-kind support from Ibec Solutions, photographer Kaitlin Toto, Dory Waxman and Jason Ryan with Open Bench.
Fikiria is working to secure additional funding from area businesses, foundations and through grants.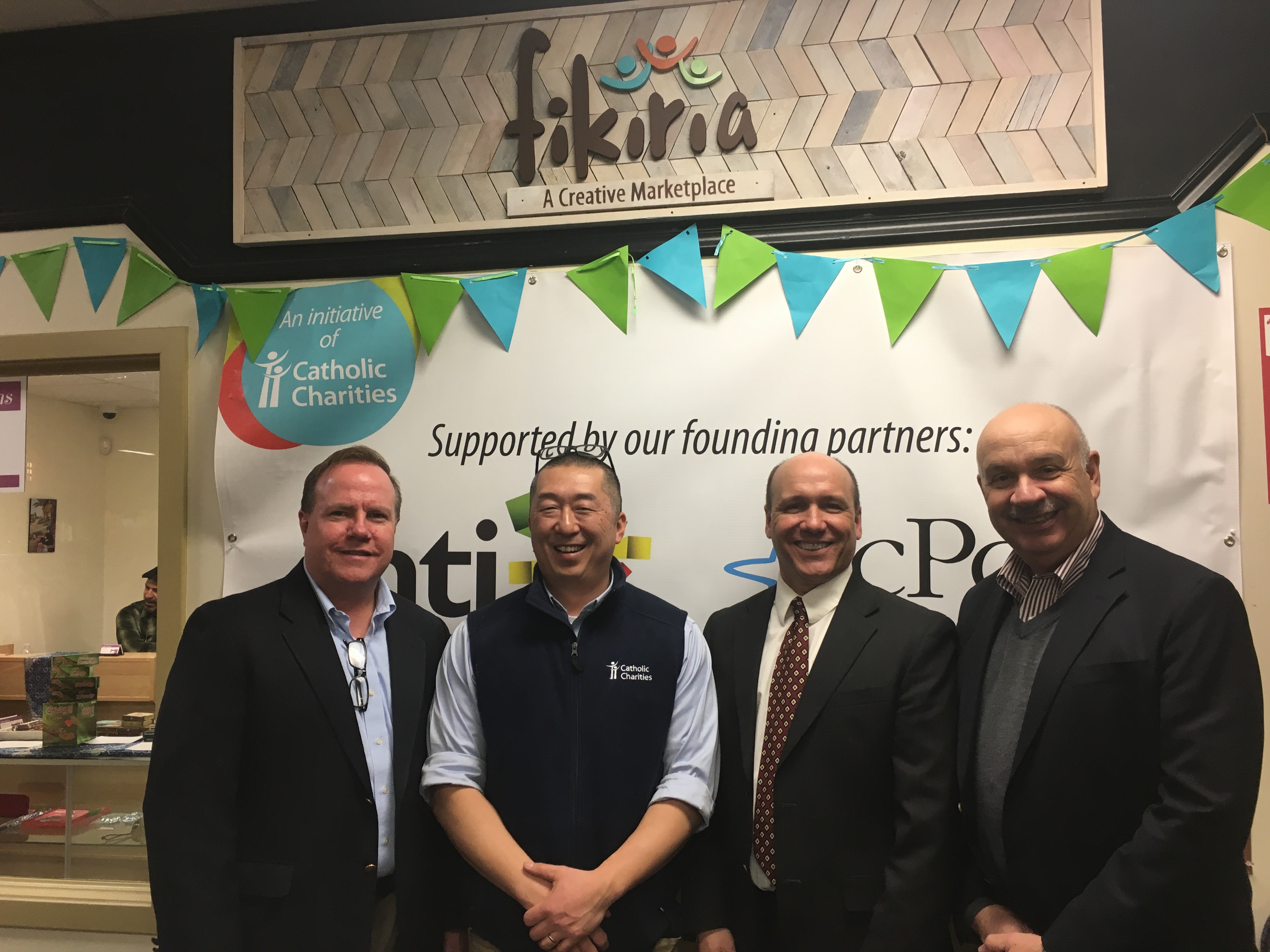 Pictured (L to R): Brian Whitney, President of Maine Technology Institute; Tae Chong, Catholic Charities' Manager of Social Enterprise and Workforce Development; Stephen Letourneau, CEO of Catholic Charities Maine and Gene Ardito, President of cPort Credit Union. MTI & cPort arefounding sponsors of Fikiria.
About Catholic Charities Maine
Since 1966, Catholic Charities Maine has provided high-quality, community-based, social services to people of all faiths, beliefs, and economic backgrounds. As one of the largest human service agencies in the state, we are committed to helping children and adults overcome adversity and achieve self-sufficiency. More than .91 of every dollar we receive goes directly to serving our neighbors in need. To learn more, please visit www.ccmaine.org or call 1-800-781-8550.
# # #