Systems Engineering Funds Telehealth Suite for Catholic Charities Maine's Behavioral Health Network
February 13, 2023
Donation will help increase access to effective, coordinated treatment

Portland, ME – Systems Engineering, a 100% employee-owned security-focused IT services company in Portland, Maine, has donated funding to equip a new telehealth suite at Catholic Charities Maine (CCM) Behavioral Health Network's (BHN) Fairfield office.

CCM's Behavioral Health Network provides comprehensive, multi-disciplinary services for individuals with a mental health diagnosis, substance use disorder, and/or behavioral disorder. With services in Portland, Fairfield, Augusta, Auburn, and Brewer, CCM's BHN served more than 1,500 adults and children in 2022.

"Maine is experiencing a severe shortage of behavioral healthcare services, and that's especially true of medication management, which plays a critical role in the continuum of community-based mental health support," said Jeff Tiner, CCM's chief clinical officer, who noted that the lack of access to qualified prescribers can create six-to-nine-month-long waitlists in Maine. "For individuals dealing with serious and persistent mental illness, this can be a devastating delay in effective, coordinated treatment. We are so grateful to our partners at Systems Engineering for this targeted funding."

"We recognized the critical need for CCM to extend their mental health services to individuals across Maine. The employee-owners at Systems Engineering were proud to support CCMs telehealth suite initiative and celebrate their use of technology to reach patients in underserved communities," Matt McGrath, CEO & President at Systems Engineering.

CCM's BHN successfully implemented telehealth services in southern Maine when the COVID pandemic began. Creating an additional telehealth suite at the Fairfield office has meant that current prescribers in Portland can support CCM's Behavioral Health Network clients remotely in this underserved area. System's Engineering's generosity will result in a long-term, cost-effective solution for comprehensive, integrated care among one of the most vulnerable populations served by CCM.

"Thankfully, telehealth is here to stay, and we see the Systems Engineering telehealth suite fulfilling a vital need for many years to come," Tiner said.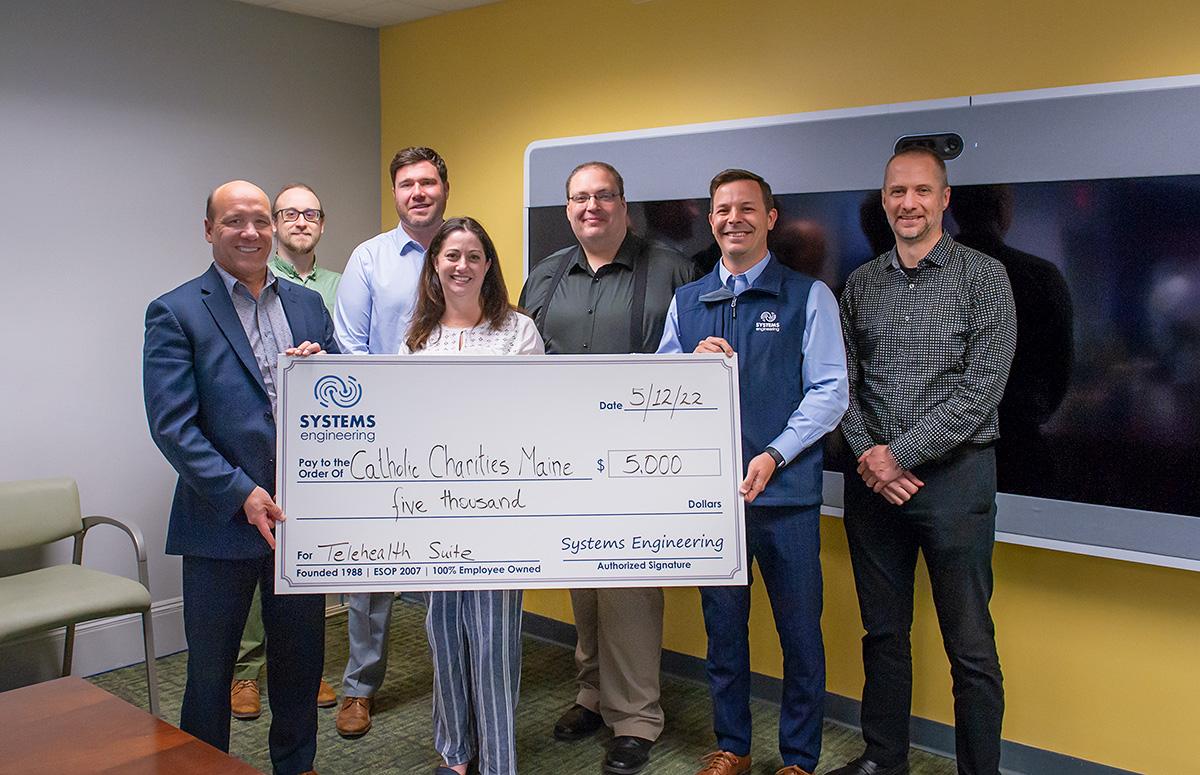 About Catholic Charities Maine
Since 1966, Catholic Charities Maine has provided high-quality, community-based social services to people of all faiths, beliefs, and economic backgrounds. As one of the largest human service agencies in the state, we are committed to helping children and adults overcome adversity and achieve self-sufficiency through our 20+ programs. To learn more, please visit www.ccmaine.org.

About Systems Engineering
Systems Engineering is a 100% employee-owned IT strategy and managed services provider with offices in Portland, Maine, and Manchester, New Hampshire. System Engineering's team of 175+ network engineers, cybersecurity professionals, project managers, data management experts, and account managers are available 24×7, 365 days per year to meet the cyber needs of clients. From network design and installation to a full complement of managed IT, IT security, and cloud services, we provide solutions that empower organizations to reach their full potential – and enable the exceptional. To learn more, please visit systemsengineering.com.