Spotlight on Service: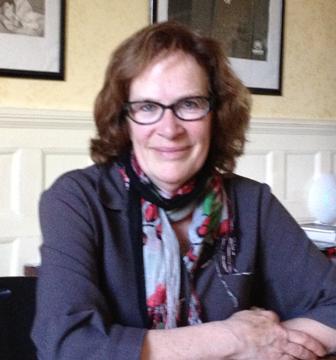 Diane
Affidavit of Relationship Coordinator
Refugee and Immigration Services (RIS)
How did you first begin volunteering at Refugee and Immigration Services (RIS) and what interested you about this opportunity?
My background and graduate degree are in public health, and I did AIDS research in New York for several years. After moving to Maine, I worked in program evaluation, and I began volunteering with RIS as an American Friend in 1998. Last fall, I reapplied to RIS to volunteer as an Employment Case Aide, but staff encouraged me to consider serving as the Affidavit of Relationship Coordinator instead.
I have always wanted to work with refugees, and now I finally have the time. I currently put in about 16 hours per week with some flexibility to meet the clients' needs.
Can you give us a brief overview of AOR?
AOR (affidavit of relationship) is a government program also known as P-3 or priority 3 that enables resettled refugees or asylees to file for reunification with their relatives still living overseas. The "anchor" individual in the U.S. can file to have their immediate family members (including spouse, children under 21, and parents) brought over as refugees. It gets more complicated as more people are included on the form, (i.e., anchors can also file for "derivative" children) and proper documentation is required of all relationships.
I meet with RIS clients to fill out the forms then submit them to the United States Council of Catholic Bishops. They are checked over and often require edits before eventually being passed to the Refugee Processing Center. From there, the forms then go on to USCIS Refugee Access Verification Unit (RAVU) in Washington D.C. and the process for actually bringing the family members to the U.S. begins.
The cases I have started are mostly for families from Somalia. It can be difficult because their family members abroad have often spent 20+ years in a refugee camp and sometimes have moved from the camp to another location in Kenya or a third country. If anyone has returned to Somalia, they are not able to be brought over with refugee status. The individuals being brought over by their anchor relative must also qualify for refugee status.
What are some of the challenges within this process?
Lack of fluency in each other's languages can be quite a challenge for everyone involved, particularly when I'm trying to explain what is needed for the AOR. For instance, photos of the family members overseas are now required, and the pictures must meet certain criteria. Obtaining photos just once is hard enough for individuals residing in refugee camps, let alone two or three times before we get pictures that will meet state department criteria.
Documentation is problematic for individuals whose country was in turmoil when they left, and papers didn't exist or were destroyed. Determining dates of birth and marriage for elderly parents, siblings and children can be an arduous task, occasionally requiring more than one appointment as clients try to gather the information.
Cost of DNA testing is a barrier for some individuals as they must pay up front a fairly substantial cost for themselves and each relative overseas to be tested. In fact, DNA cost and photo requirements have prevented many families here from initiating or completing the AOR process.
What do you enjoy about this volunteer opportunity?
What I've enjoyed the most about my experience with RIS is working with the staff and other volunteers and feeling like I'm a part of the great work they do. I admire their devotion to easing the transition for refugees, and I also really admire the refugees themselves. Meeting with clients is rewarding and there's a satisfaction in turning in a completed application, even if it required many edits and revisions.
I've learned a lot, but I would like to know more about other immigration options, especially for people who can't use the AOR process. A new volunteer working with me will be researching other options.
I feel a sense of accomplishment for getting forms filed, but I will be even more satisfied when clients I've assisted with AOR are eventually reunited with their family members.
For more information about AOR, please see:
http://www.usccb.org/issues-and-action/human-life-and-dignity/migrants-refugees-and-travelers/family-reunification/immigrating-the-spouse-and-children-of-refugees-asylees-part-2.cfm